Dear Clients and Partners!
Due to increased number of active clients and load on RoboForex-Pro and RoboForex-Fix servers, RoboForex Company management decided to move all cent accounts from these servers to 2 new additional MetaTrader4 trading servers.
RoboForex informs you that on March 17th, from 10 in the morning to 12 in the afternoon GMT+2, trading servers and Live Account will not be available.
All clients with cents accounts are recommended to download an updated version of the MetaTrader4 trading terminal and MultiTerminal with new servers available when choosing a server (see the figure below):
RoboForex-FixCent – for cent accounts (with Instant Execution) from RoboForex-Fix server.

RoboForex-ProCent – for cent accounts (with Market Execution) from RoboForex-Pro server.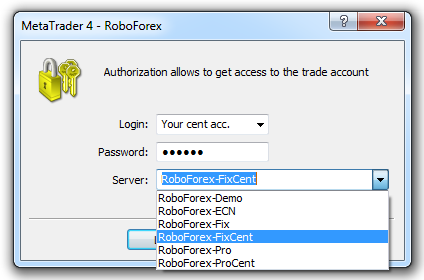 Thus, in order to access your cent account, you must connect to new servers, RoboForex-FixCent & RoboForex-ProCent.
Servers for all standard accounts remain unchanged, RoboForex-Fix & RoboForex-Pro.
We are very sorry for inconveniences.
Sincerely,
RoboForex
https://roboforex.com/about/company/news/show/250-fixcent-and-procent-servers-for-cent-accounts/