Analysis for January 26th, 2012

NZD/USD
As we expected, the price reached a new local maximum again. It looks like wave
[5]
of C is about to be finished very soon. Most likely, the market will move higher, but then there is a possibility that the price may reverse and start moving downwards.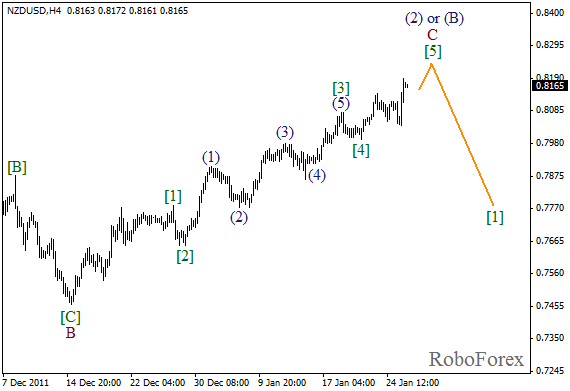 It looks like the price completed wave
(3)
and right now the correction is taking place again. Taking into consideration the fact, that the second wave was quite long, the formation of the fourth one may take several days as well. After that we can expect the price to start growing while forming wave
(5) of [5]
.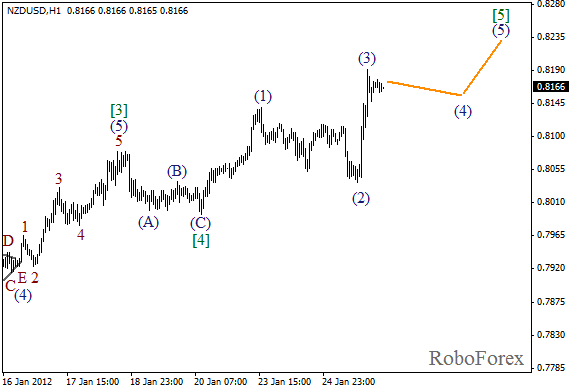 EUR/USD
As we expected, the market continues growing while forming
zigzag
pattern in wave
[4]
. On the minor wave level we can see the formation of an impulse in wave
(C)
. Most likely, in the near term the price will continue moving upwards.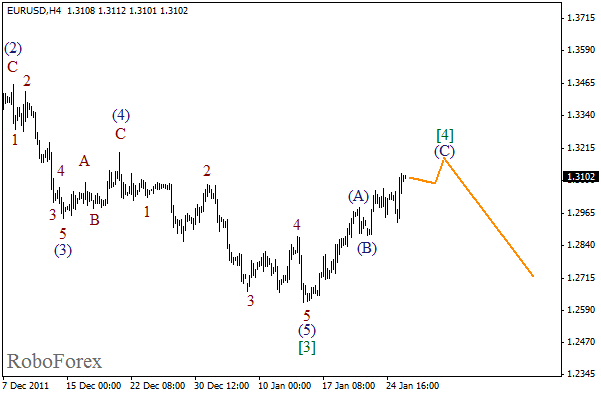 At the H1 chart, after the long second wave, the price has completed the third one. Most likely, the market will be corrected inside the fourth wave during the next several days. After that we can expect the pair to start growing up while forming wave
5 of (C)
. The red dotted line at the H1 chart indicates the minimum of wave
[1]
, which is a critical level for the current wave structure.