Analysis for February 3rd, 2012

NZD/USD
Extension
in wave
[3]
continues. On the minor wave level the price is forming wave
(5)
. It looks like the pair is going to continue moving upwards in the nearest future. We can expect the price to reach a new local maximum within the next several days.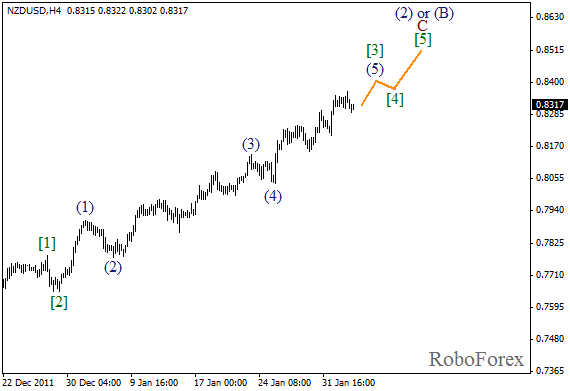 More detailed wave structure is shown on the H1 chart. We may assume that the price is forming the fourth wave at the moment. In the nearest future we can expect the local correction to be finished and the pair to start moving upwards while forming wave
5 of (5)
.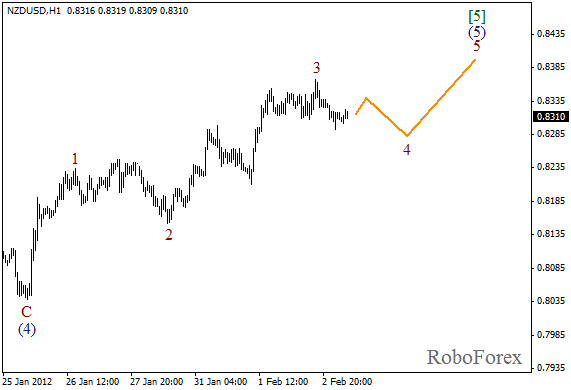 EUR/USD
It looks like Euro is going to continue growing up in wave
(3)
. On the minor wave level the price is starting to form the third wave. In the near term, we can expect the pair to reach a new local maximum. The target for the next several days is the level of 1.3300.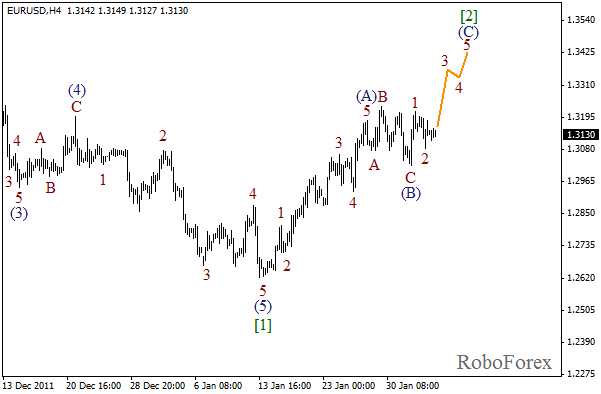 If we take a look at more detailed wave structure, which is shown on the H1 chart, we can see that wave
(B)
has been completed in the form of
flat
pattern. The price has formed an initial impulse in wave
1
. Most likely, the pair will start moving upwards again on Friday. The price may break local maximum while forming wave
3
.