Analysis for March 7th, 2012

NZD/USD
The price continues forming an initial descending impulse. It looks like
zigzag
pattern in wave
(2) or (B)
has been completed and right now New Zealand is about to start moving downwards again. On the minor wave levels the correction is taking place, however we can expect the price to reach a new local minimum before the end of the week.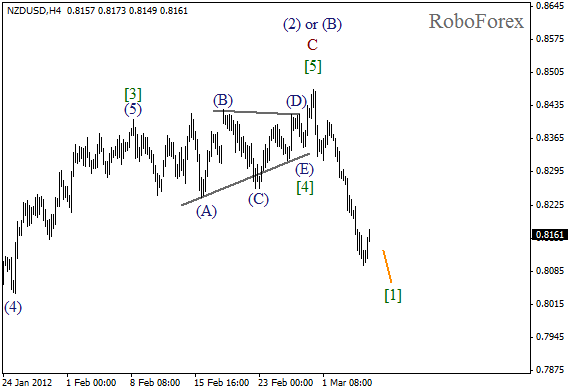 More detailed wave structure is shown on the H1 chart. After a significant fall in wave
(3)
, the correction started. The formation of wave
(4)
may take several days. After that we can expect the start of wave
(5) of 1
.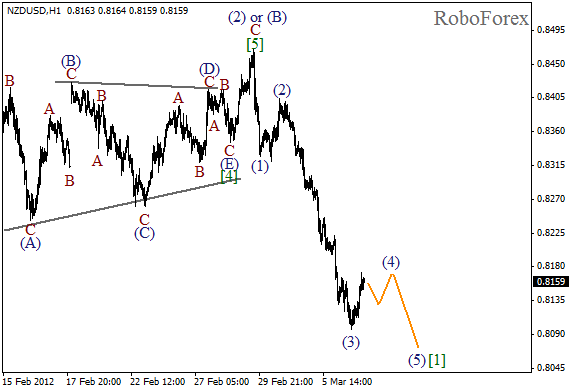 EUR/USD
After completing
zigzag
pattern in wave
[2]
, Euro formed an initial descending impulse. After the local correction is finished, we can expect the price to make a significant descending movement while forming wave
(3)
. There is a possibility that the pair may reach the level of 1.2500 within the next several weeks.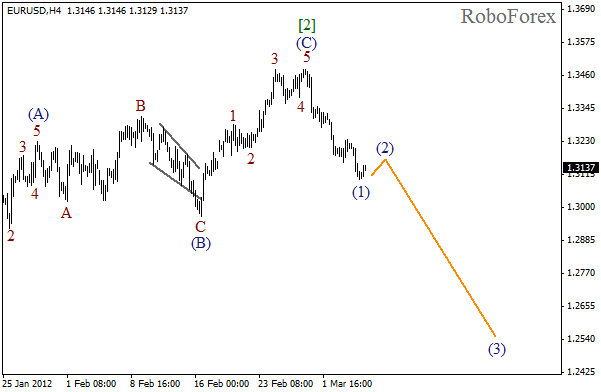 More detailed structure of wave
(1)
is shown on the H1 chart. We may assume that the fifth wave was completed earlier, and right now the market is being corrected. Taking into consideration the fact that the previous descending movement was quite strong, we shouldn't expect wave
(2)
to be very long.