Analysis for April 3rd, 2012

NZD/USD
In case of the NZD/USD currency pair the correction continues, wave
(B) of [2]
took the form of
horizontal triangle
pattern. Currently the price is forming an impulse in wave
(C)
. Despite the fact that the price may continue growing up for a while, in the future we can expect it to make a reverse and start moving downwards while forming wave
[3]
.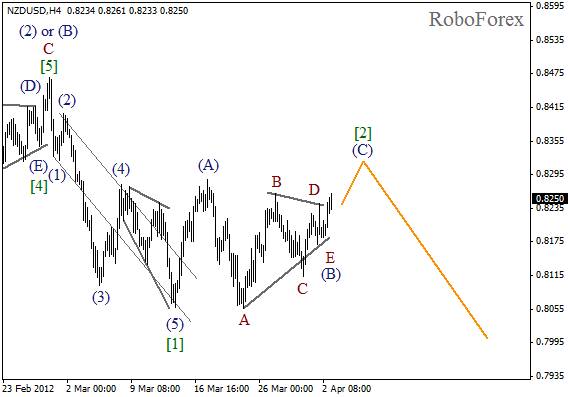 More detailed wave structure is shown on the H1 chart. After finishing a triangle in wave
(B)
, the price started forming an ascending impulse in wave
(C) of [2]
. The pair may continue moving upwards on Tuesday.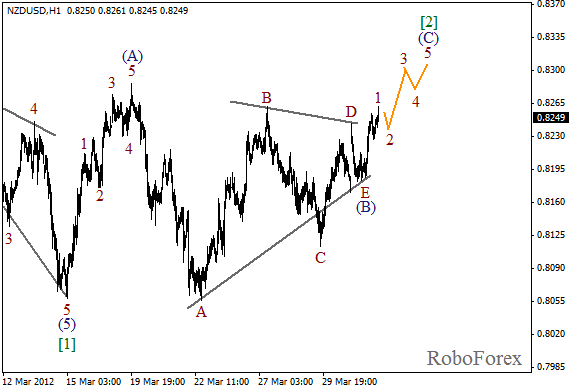 EUR/USD
There is a possibility that the local growth of the price in
(C) of [2]
may continue as
diagonal triangle
pattern. The pair may reach a new local maximum on Tuesday. However, after that we can still expect the price to reverse and start falling down inside the third wave.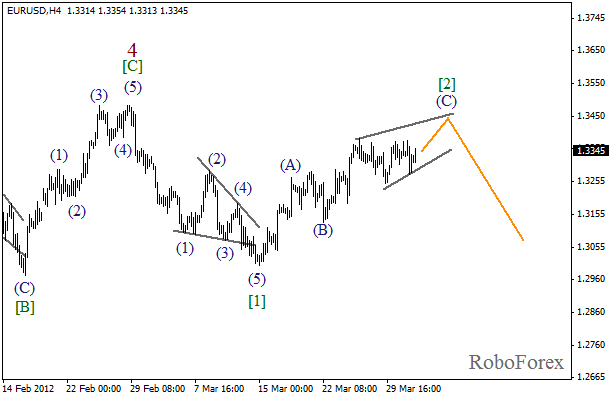 As we can see at the H1 chart, the price is the middle of the third wave which is formed in wave
(C)
. Most likely, the pair will continue growing up in the nearest future. The target for the next several hours is the level of 1.3400.