Analysis for September 16th, 2011

USD/CHF
The formation of the fourth wave, which is taking the form of
zigzag
pattern, continues. The forecast remains bearish, so far. In the near term, we can expect the descending wave
[C] of 4
to continue.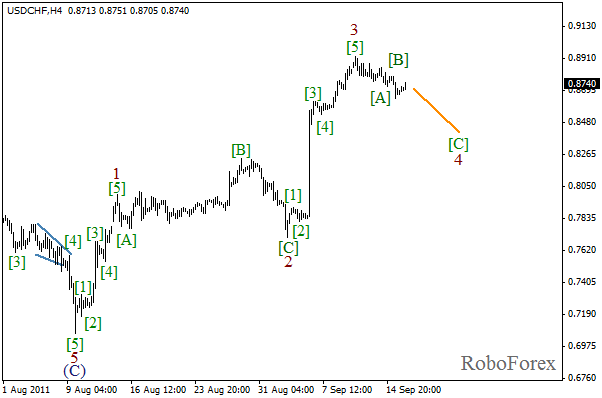 It looks like wave
[C]
at the H1 chart is taking the form of
diagonal triangle
pattern. On the minor wave level we can see the formation of the second wave. The local correction may be finished during the day, and after that we can expect the start of the third wave.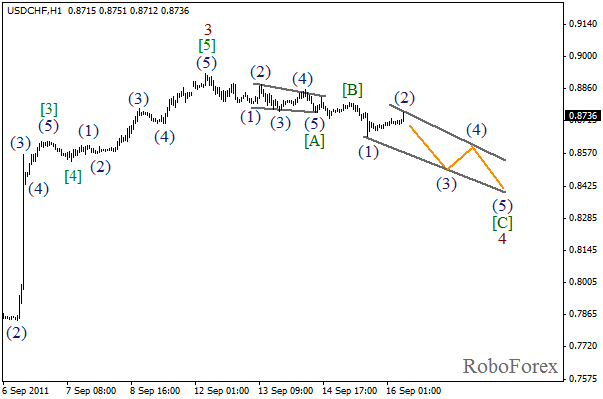 EUR/USD
It seems that wave
(B)
at the H4 chart of the EUR/USD currency cross hasn't been completed yet. The price may grow a bit during the next several days, however, after that we can expect it to start moving downwards again inside wave
(C) of [Y]
. Most likely, wave
2
will be finished at the levels of 1.3400 – 1.3300.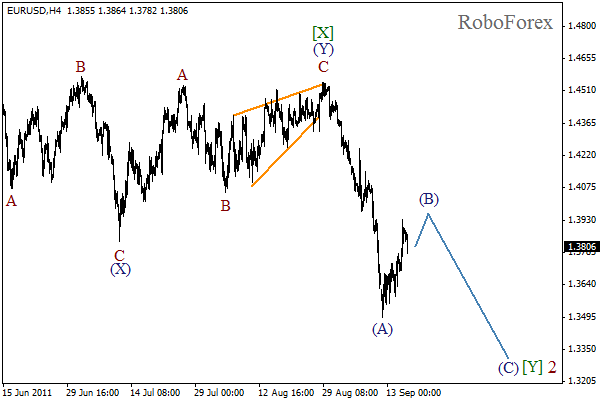 Taking into account the fact that after completing
triangle
pattern in wave
B
the price has formed a rising
three
pattern, it seems quite logical to conclude that wave
C
will take the form of
diagonal triangle
. In the near term, we can expect the price to grow, but after that the situation may turn in favor of bears.