Dear Clients and Partners!
We are glad to inform you that from now on, an additional type of Demo account, MT4 Demo ECN, is available for opening. The main features of Demo-ECN account are a floating spread, 5 digits after comma, and Market Execution mode.
Please note
, RoboForex has created a special bridge for MT4 Demo ECN accounts. All orders are transferred to a demo account opened in the Currenex system. The uniqueness of this type of account is an opportunity to test how a
real professional ECN account
operates when you use a real bridge.
RoboForex can guarantee that order execution for MT4 Demo ECN and real MT4 Pro-ECN accounts is completely the same.
In order to have an access to this new type of account, you have to open a demo account specifying a particular type, it will take you less than a minute. If you are already a client of the RoboForex, you can open an additional Demo-ECN account in your "Live Account", "Open a Demo account" section.
This new type of account will be a very useful tool for traders, who want to test their trading systems and choose a type of a real account which is the most suitable for their trading strategies.
Please, note, that a new type of Demo account have some peculiar details, which should be taken into consideration before you start trading
1. Login to Demo-ECN account in MetaTrader 4 Client Terminal.
To connect to Demo-ECN account you should choose RoboForex-Demo server as shown below: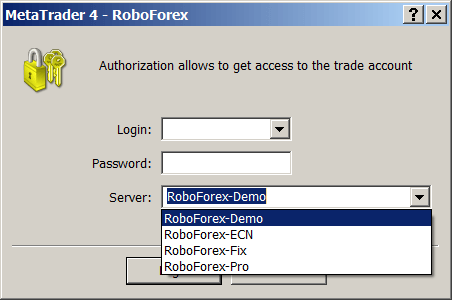 2. The names of trading instruments.
The names of the currency pairs differ from those of MT4 Demo ECN-Fix accounts, as they have an extra letter, ".e", added to the symbol of the currency pair. For example, EURUSD.e, is how EURUSD trading instrument is displayed in the client terminal when a client uses MT4 Demo ECN account (see also the example on the figure below):

Please, remember this when you set the parameters of your trading Expert Advisors.
3. Customizing the "Market Watch" window for MT4 Demo ECN account.
After a successful authorization in the client terminal, you need to customize "Market Watch" window which contains the list of available trading instruments.
The easiest way to do it is to right-click on the "Market Watch" window and select "Show All" in a pop-up menu.
After that you'll see a complete list of trading instruments which are available for Demo-ECN accounts (see also the example on the figure below):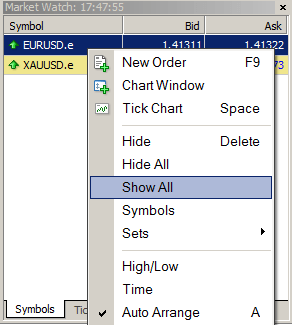 In case of any questions or problems, please, contact our Technical Support Service immediately.
Sincerely,
RoboForex