Analysis for June 27th, 2014

EUR USD, "Euro vs US Dollar"
EURUSD is probably continuing to develop within ascending phase. For today I anticipate continuation of the growth with target of 1.3650 and consolidation with forming bullish structure. 1.3670 level can be broken out. After that price can retrace to 1.32624 and finally, grow to 1.3800 area.


GBP USD, "British pound vs US Dollar"
GBPUSD is possibly continuing to trade within ascending structure. For today, 1.7115 target can be achieved. In case it happens, I will expect correction. But this wave is trending, therefore its target is located around 1.7730 with limited upside potential and ceiling of 1.7730. Market can go straightly to the upper target without significant correction moves, forming only small consolidations on the way.


USD CHF, "US Dollar vs Swiss Franc"
USDCHF is probably continuing to evolve within bearish structure. For today, 0.8900 level can be violated with further consolidation and bearish structure. First target is considered to be at 0.8780.


USD JPY, "US Dollar vs Japanese Yen"
USDJPY has formed continuation pattern after breaking 101.70 and now goes down. For today, 101.00 level might be achieved. After that, price can revisit 101.70 from below. After that I expect further decline with achieving 100.50


AUD USD, "Australian dollar vs US dollar"
AUDUSD continues to move within ascending structure with target of 0.9465. Today this target can be achieved, after that I will expect possibility of reversal with executing 4th correctional structure with target of 0.9270.


USD RUB, "US Dollar vs Russian Rouble"
Russian rouble is continuing to trade near recent lows. I will expect that this consolidation is going to be continued with further reversal and 4th ascending wave. Target for this growth will be around 35.00. After that I will expect that market can decline with target of 33.20 in the form of 5th wave. As a possible alternative, I would note that If market will touch 33.20 on the way down, strategic target of 3-wave combination will be executed. In case it happen, potential for correctional move will be exhausted. Next anticipated movement will be ascending wave with 38.50 as a target.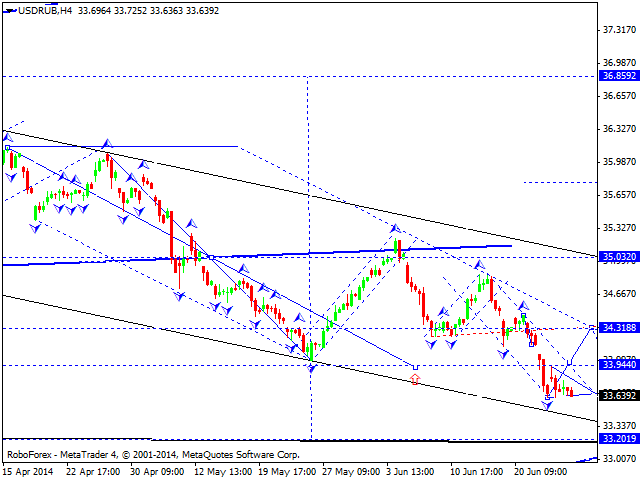 XAU USD, "Gold vs US Dollar"
Gold is consolidating on the top in the shape of triangle. For today, I will expect that 5th wave of the triangle can be developed. Upper side of the triangle can be tested with further decline. Target for this decline might be around 1208.

RoboForex Analytical Department