Dear Clients and Partners!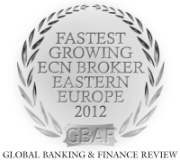 We are very pleased to inform you that the RoboForex Company, rightfully considered to be one of the most dynamically growing Forex Brokers, has been awarded with a very prestigious title of "Fastest Growing ECN Broker Eastern Europe 2012" by Global Banking & Finance Review.
For us it's very pleasant to realize that the efforts of our Company staff weren't in vain and were highly appreciated by such a respectable and prestigious magazine.
Actively implementing innovative products into trading process, improving trading conditions for traders, and consistently expanding the list of available services, the RoboForex Company is committed to continue improving its services in order to provide you with the best possible and most comfortable trading conditions at professional level.
We consider this received award to be one more confirmation that our Company is developing in a right direction, meaning that our clients' interests have always been and will always be the most important goal of the Company's daily activities.
Sincerely,
RoboForex