EUR USD Forecast Nov 15 2010
The EUR/USD currency pair has almost reached the area where the 5th point of reference is formed. Judging by eurusd forecast you should try to find the point of entry at shorter periods of time. It's possiblethat we will see the price testing the rising channel's lower border. We should consider buying the pair either after the price leaves the descending channel or after it breaks the reversal pattern.

GBP CHF Forecast Nov 15 2010
In our online forex trading reviews we didn't often discuss the GBP/CHF currency pair. At the moment there is a symmetrical descending pattern with the target in the area of 1.4760. The rising channel has been already broken and we have the area to sell the pair. The stops must be hidden above 1.5780. According to gbp chf analysis, the alternative scenario is the following: the price leaves the channel and surpasses the level of 1.60 indicating that "head & shoulders" reversal pattern is completed.

USD CAD Forecast Nov 15 2010
In case of Canadian Dollar the descending pattern with the target in the area of 0.9956 still remains in effect. Judging by usd cad analysis you can try to sell the pair either starting from the channel's upper border or after the rising channel is broken at shorter periods of time. The stop must be above 1.0165.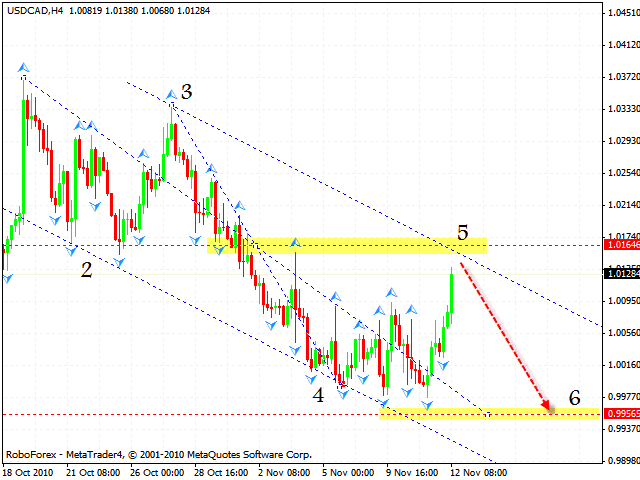 Attention!
Forecasts presented in this section only reflect the author's private opinion and should not be considered as guidance for trading. RoboForex bears no responsibility for trading results based on trading recommendations described in these analytical reviews.