EUR USD Forecast Feb 16 2011
The EUR/USD currency pair keeps moving inside the rising Wolfe Wave. The price has left the area where we could buy the pair. At the moment we should expect it to be corrected to the area of 1.3500, where we can try to buy. According to the eurusd analysis the stop must be below 1.3450. But if the price breaks the local minimum in the area of 1.3400, this case scenario will be cancelled.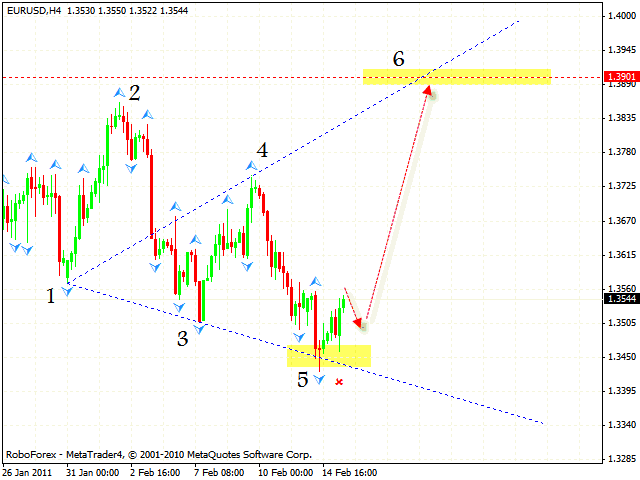 GBP USD Forecast Feb 16 2011
Pound is also moving according to the gbpusd forecast. The pair has broken the descending channel's upper border. One can consider opening long positions with the stop below 1.6040. The target of the growth is still 1.6325. Don't forget to move stop into the black as soon as possible.
NZD USD Forecast Feb 16 2011
New Zealand is ready to move upwards. At the moment the price is testing the trend's rising line, the daily support level is in the area of 0.7530. According to the nzdusd forecast the target of the growth is the upper level in the area of 0.7820. The test of the trend line at the RSI will be an additional strong signal to buy the pair.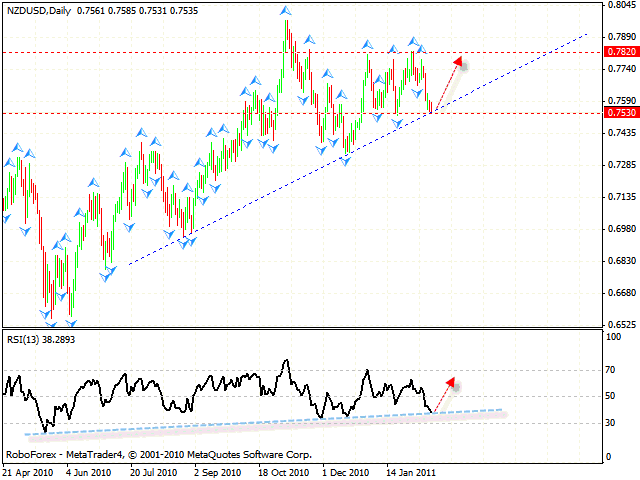 USD CAD Forecast Feb 16 2011
Canadian Dollar is moving inside the descending symmetrical pattern with the target in the area of 0.9769. Judging by the usd cad analysis you can consider selling the pair with the stop above 0.9900. If the price reaches a new minimum at the level of 0.9830, we can try to increase the amount of short positions.