Analysis for March 20th, 2012

NZD/USD
It looks like the formation of wave
[2]
is going to take more time than we thought earlier. The price has completed an impulse in wave
(A)
. After the local correction is finished, we can expect the pair to continue growing up while forming wave
(C) of [2]
. In the future, the price may make a reverse and start falling down in wave
[3]
.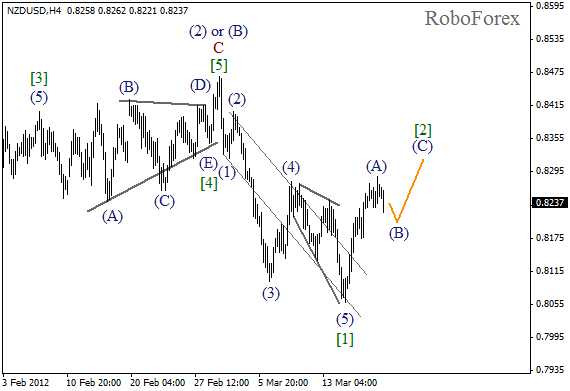 If we take a look at more detailed wave structure, which is shown on the H1 chart, we can see that the price has completed a bullish impulse in wave
(A)
, and currently is forming wave
(B)
. In the near term, we can expect New Zealand Dollar to grow up for about 100 pips in wave
(C) of [2]
.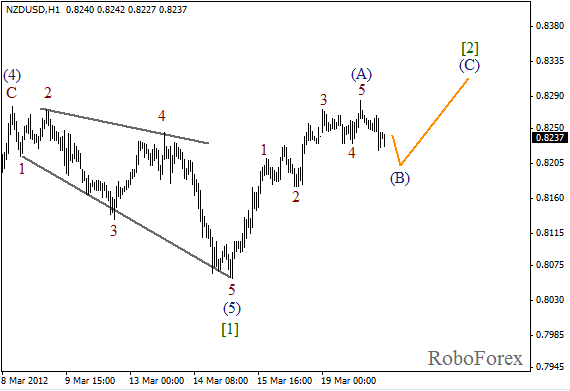 EUR/USD
Wave
(2)
may be a bit longer than we expected earlier. We may assume that right now the price is forming an ascending
zigzag
pattern with an impulse completed inside wave
A
. After the local correction is finished, we can expect a short-term upward movement in wave
C of (2)
.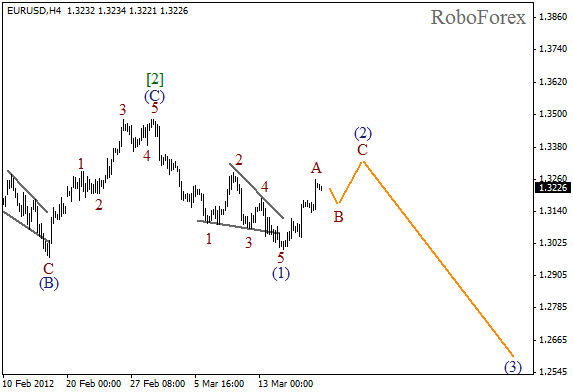 At the H1 chart, after completing an initial descending
wedge
pattern in wave
(1)
, the price has formed an ascending impulse in wave
A
. The correction in wave
B
may continue during the day. In the future, we can expect the market to move upwards for about 100 pips while forming wave
C of (2)
.